Every woman has that one dearest outfit that she never wants to part ways with. And similarly, every "desi girl" owns that piece of kurti that she loves to death. We know you feel us. However, what's that element that makes us like some of our outfits way much more than the others lying in our closet? Well, simple, the fit. The dresses and ensembles that make us look gorgeous, taller, naturally beautiful, accentuate our curves from the right places and overall depict a perfect picture are the best clothes.
Different Types of Kurti Designs for Your Body Type
So, here we shall be discussing how to choose a different kurti that perfectly compliments your body type.
Apple Shaped Body
Indian women are blessed with a heavy bosom and therefore, the need to balance out the body structure comes into play. A-line kurtis work best for women with the apple shaped body. They deviate the attention from the crest while focussing more on the lower half. You can also opt for cigarette pants that are much in trend these days, they will draw attention from the upper body and make you look gorgeous. Go for light colored trousers or bottoms to stay chic and smart. V neck kurtis are yet another hack for apple shaped women to distract them from ogling.
Pear Shaped Body
Mostly Asian women have slimmer crest that implies to the pear-shaped body. Anarkalis and kurtis with longer hemlines help women with such body type to accentuate their height and create an illusion of tall and lean legs. Kurtis with jackets is yet another trick to style yourself which looks universally flattering. Look for kurtis with embellished bodice help in creating a visual appeal while balancing the structure.
Athletic Body
Healthy women who are fitness aficionados can flaunt any type of kurti. However, the ones layered with pleats and flares go best with their athletic frame. You can also go for plunging deep necklines in case you're looking for a sizzling hot kurti for a date night or a BFF's wedding. Rock your usual self with a plethora of styles and designs, however, make sure that you choose dark toned colors to properly flaunt those toned shoulders.
Hourglass Figure
Women who are blessed with an hourglass figure avail the maximum advantage of flaunting their curves with body-hugging silhouettes. Lighter fabrics like georgette and chiffon flatter their body type and accentuate those curves right. Empire cuts and structured kurtis are yet another trick that you can embrace. So, go ahead, all you lucky hourglass women to experiment and shop wisely.
Petite Frame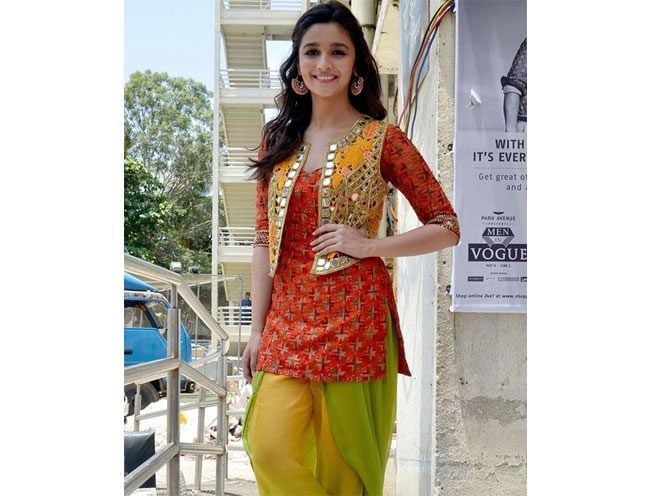 A large number of woman complain of their petite frame, but why, we wonder. You are the luckiest of them all for your everlasting youth and colourful silhouettes will never go out of vogue. So, go ahead and pick up that short kurti with large and colourful bold prints. Even embellishments work well. Try to layer with denim jacket or colourful kotis to create a fun fusion look.
Plus Sized Frame
Obesity is a major problem and an alarming situation. However, your clothing needs to be a bit cautious to not allow those uninvited eyes to judge you. Therefore, stick to long straight kurtis in deep muted tones that have a huge slimming effect. Steer clear from small prints for they can make you look obese and bloom.
Image Courtesy: 1. Seen It, 2. Vogue. 3. Seen It, 4. Instagram (Kareena Kapoor), 5. Fashion Lady
Article By : Pure Elegance